Stories of Pride: Damon Diehl
Meet Damon Diehl – engineer, teacher, mentor, and vocal advocate – whose lifelong inspirations include activists Larry Kramer and Harvey Milk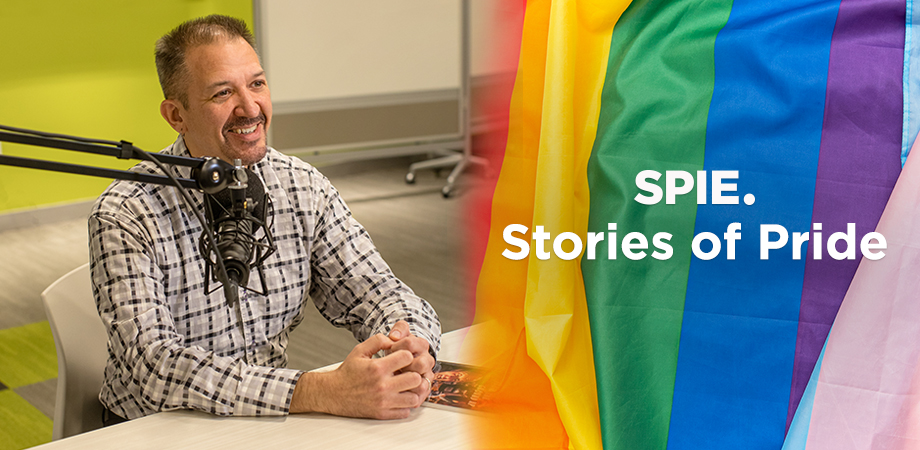 In celebration of Pride Month, SPIE spoke with members of our community about their experiences as LGBTQ+ scientists in optics and photonics as well as within the greater STEM community. Our first conversation is with Damon Diehl (he/him/his), the director of technology integration for NextCorps Luminate, a startup accelerator for early-stage businesses developing products based on optics photonics and imaging.
Damon received his BA in physics and mathematics from the University of Chicago and his PhD in optical engineering from the University of Rochester's Institute of Optics. Damon is the author of Grant Writing from the Ground Up, published by SPIE Press, teaches a workshop of the same name, and is the instructor for the popular SPIE course A Hands-on Introduction to Optics. He is also known for correcting two formulas in Principles of Optics by Max Born and Emil Wolf, a feat he accomplished while procrastinating on his thesis. He is married to the author and playwright Brad Craddock.
Is there an LGBTQ+ person in your life who has inspired you?
If you are talking personally, then, hands down, Brad is my LGBTQ+ inspiration. We met as members of the activist group Queer Nation Chicago in 1994. It's unbearably corny, but our eyes met across a crowded room, and then I memorized his phone number from the sign-up sheet and called him. He will tell you that it was both romantic and creepy. But we're still together after almost 30 years. I moved to Rochester in 1995 for graduate school, and he moved here in 1996. He's been nothing but supportive of me, which is saying a lot because I was in graduate school for eight years.
When you talk about professional inspiration, though, the answer is a bit more complicated. My inspiration came from non-scientist activists like Harvey Milk and Larry Kramer. During my near-decade of graduate school, I was very vocally "out," but I don't think I ever met another openly queer person in the scientific community. Even now, when I go to LGBTQ+ events at conferences, there aren't many people older than me. There's a generation gap.
How can allies actively support LGBTQ+ scientists and engineers?
The best thing that allies can do for the LGBTQ+ community is to look for symptoms of discrimination because discrimination is much more subtle than it used to be. Discrimination used to be a bold printed "No" on a drinking fountain or a "Need Not Apply" on a job listing, but these days discrimination is, instead, usually in the form of not saying, "Yes." Watch the careers of your LGBTQ+ colleagues. Are they on panels? Are they editing journals? Are they publishing? Are they receiving awards? Are they advancing up the career ladder? If an LGBTQ+ colleague seems to be sidelined, then make an effort to open doors for them. Be the "Yes."

What is one piece of advice you can offer the LGBTQ+ scientists and engineers of the future?
I was on a diversity panel for SPIE and I said, "If someone doesn't accept you, then they don't deserve you." Being different is not a liability; it's an asset. Find a place to work where you are the missing puzzle piece, dig in, and then kick ass.
EDI at SPIE

SPIE believes in the development of collaborative environments that value participation from individuals with different ideas, perspectives, and backgrounds, which ultimately have a positive impact on the science of light. Explore our EDI activities.
Enjoy this article?
Get similar news in your inbox
Recent News