SPIE's first two children's books to be released at Optics + Photonics
Jesse Explores and Larry Laser mark the first two books in this new publication series
15 August 2023
by Daneet Steffens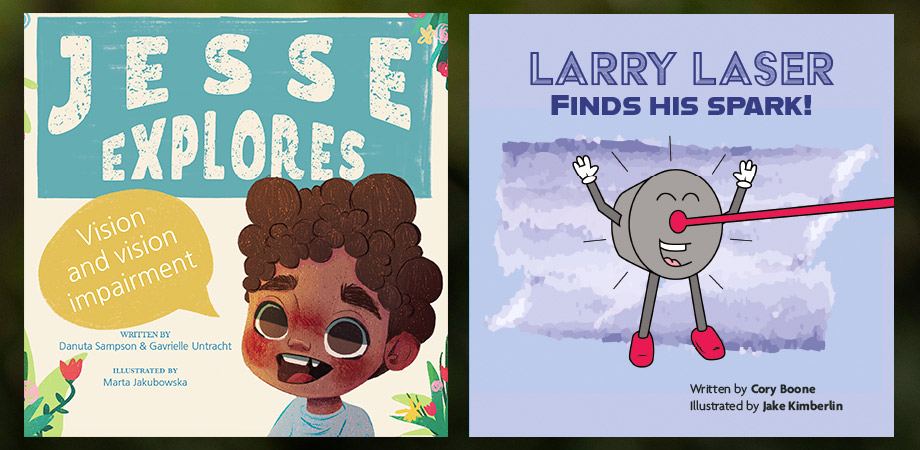 Lasers, optical illusions, and accessible information about how optics and photonics help us interact with the world around us, light up two new books from SPIE Press. The writers tell their stories with humor and smarts, and both books feature cheeky, colorful, and engaging illustrations, providing an exciting addition to SPIE's press catalog.
Jesse Explores: Vision and Vision Impairment is written by Danuta Sampson — a senior lecturer at the University of Western Australia and senior research fellow at the Lions Institute, whose facilitation of inclusive collaborations between vision-impaired children and children with normal vision earned her the 2023 SPIE Diversity Outreach Award — and Gavrielle Untracht, an SPIE Early Career Professional Member and post-doctoral researcher in biomedical instrumentation at the Technical University of Denmark. The book, illustrated by Marta Jakubowska, is narrated by Jesse, who lives in Australia with his grandmother and his sister, Rosa, both of whom are vision impaired. Jesse explains how eyesight works — how light, eyes, and brains work together to help us see — and the different conditions that can lead to vision loss or impairment, from myopia and night blindness, to age-related macular degeneration or damaging eye injuries. Jesse demonstrates that vision-impairment doesn't limit people's ability to enjoy life experiences; in fact, as Jesse learns from Rosa and Grandma, it heightens other senses. The interactive aspect of this book drives Jesse's messages home: a bustling activities section encourages readers to identify light sources from a selection of images and explore optical illusions with an accompanying pair of 3D glasses; it also includes a glossary and a fun, code-cracking guide to the Braille alphabet.
For Sampson, Untracht, and Jakubowska, working on Jesse Explores: Vision and Vision Impairment — the first book in a planned series — has been a joyful experience: "We all believe that education is the most empowering force in the world, and we know children learn through listening to interesting stories, looking at colourful pictures, and undertaking hands-on activities. This shared belief is what has brought us together to make a difference by showing children, in an engaging way, the beauty of science and the power of kindness and inclusion." The book is aimed at children aged five years old and above. "Eight-year-olds should be able to read the book independently and undertake the activities," notes Sampson. "Five-year-olds can begin the reading journey and can learn more and more about the book's concepts as they grow."
Children-accessible scientific concepts also shine in Larry Laser Finds His Spark! by Cory Boone, the technical marketing manager at Edmund Optics. In this book, illustrated by Jake Kimberlin, we meet Larry Laser who's despondent about his lack of abilities — attempts at baking, acting, and shoe-selling have fallen by the wayside, and "the only time anyone noticed him was when cats wanted to chase his laser spot." Happily for our light-focused hero, a chance meeting with Lexi Lens reveals Larry's much-needed contributions to laser welding, sight-improvement surgery, and high-speed internet connections making him feel loved, appreciated, and fulfilled. The book is tailored for kids ages 2-8, "similar to The Giving Tree or The Cat in the Hat," according to Boone.
"My favorite part of creating this book was crafting how the story could be conveyed using images," says Boone. "It was amazing to have Jake, one of my best friends for 15 years, create the illustrations. I love the clean, easy-to-understand style he created." The most challenging part of working on the book, was introducing relatively technical concepts in a simple, fun way that was accessible for kids. "I think it is so important to introduce science to kids early on so that they can develop a sense of curiosity about the world," he says. "Science can help them understand why the sky is blue, how their tablet is able to connect to the internet, and how the things around them get made." Optical science in particular, he notes, is often underestimated and unrecognized in terms of how significantly it impacts our lives: "Introducing kids to optical concepts not only potentially develops the optical engineers of tomorrow, but it develops a public much more likely to support optical sciences and advocate for policies that continue to foster technical innovation."
Both books will be available for purchase at the SPIE Bookstore during SPIE Optics + Photonics and online via spie.org shortly thereafter.
Enjoy this article?
Get similar news in your inbox
Recent News