Photonics Focus
November/December 2022 | Vol. 3 | Issue 6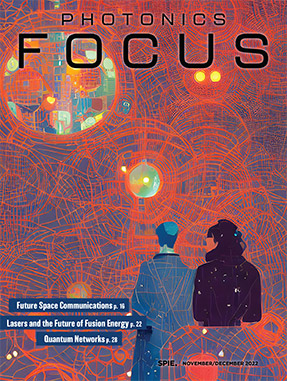 This issue of Photonics Focus looks to the near-future and how it will be shaped by photonics. Lasers are being devised to facilitate communications in and between the Earth and Space. New photonics based technologies are fast-tracking fusion energy via numerous venture-capital-funded startups and their close association with research scientists. Quantum networking of atomic clocks and many other devices promises a world of undreamed of possibilities for sensing, imaging, and measurement accuracy—perhaps all before practical quantum computing applications.
Select articles are available online but the complete issue is downloadable as a PDF.
About Photonics Focus
Launched in 2020, Photonics Focus® is the award-winning society magazine of SPIE. Articles showcase scientific discovery and innovative real-world applications of optics and photonics.
A subscription to Photonics Focus is included in SPIE Membership, or you can purchase an annual print subscription (6 issues per year) without membership for $29.95:
Recent Issues