Accelerating med tech: FDA catalog of research tools showcases agency's commitment to innovators
30 June 2023
Zane Arp, Dorn Carranza, Edward Margerrison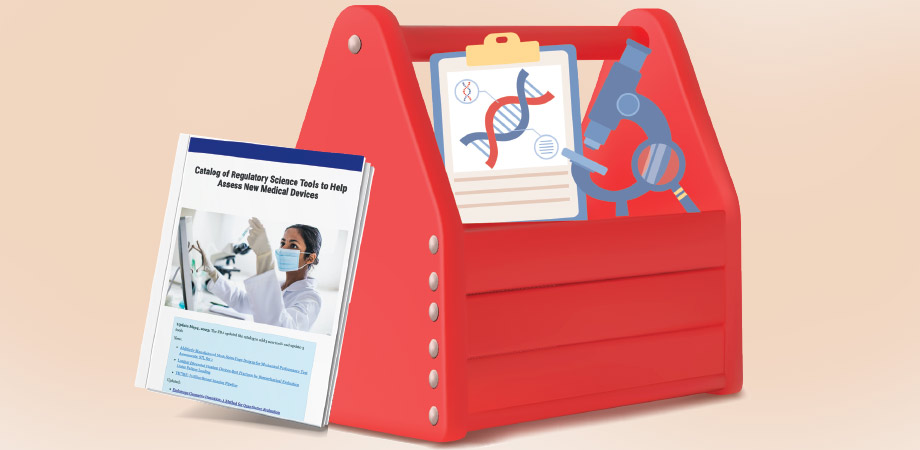 The nine most terrifying words in the English language are: "I'm from the government, and I'm here to help," former US President Ronald Reagan famously quipped. At the Food and Drug Administration's (FDA) Office of Science and Engineering Laboratories (OSEL) in the Center for Devices and Radiological Health (CDRH), we're out to prove President Reagan wrong.
Our office can be thought of as the research and development arm of CDRH. Regulatory science is the science of developing new tools, standards, and approaches to assess the safety, efficacy, quality, and performance of all FDA-regulated products. With a mission of accelerating patient access to innovative, safe, and effective medical devices through best-in-the-world regulatory science, OSEL has been future-proofing the FDA for emerging technologies and medical devices for more than 20 years.
In the early stages of technology or product development, often no consensus standards or other guidance exist to help innovators assess their inventions. Two major downsides result: First, an early-stage innovator must develop both a new medical device and evaluation methodologies, which can drain two of their major resources, time and money. Second, with no standard metrics, performance benchmarking and being able to predict the need for device redesign become impossible. OSEL's concern is that this situation can all too often lead to promising technologies falling into the entrepreneur's so-called valley of death, from which escape is unlikely.
Bringing med tech innovators better resources for tackling primary evaluation of device safety, effectiveness, or performance will improve translation of new medical capabilities and prevent them from falling into the valley of death. Two years ago, OSEL re-evaluated their scientific outputs and found that the traditional publication model in science was not sufficient for the needs of the med tech community. We found that a lot of practical information that could be of use to medical device developers and the scientific community was not being made sufficiently usable. As a result, the FDA's Catalog of Regulatory Science Tools to Help Assess New Medical Devices (RSTs Catalog) was born, a free resource to the medical device development community.
The RSTs in the catalog are product development and assessment tools that expand the scope of science-based approaches to speed and improve the translation of technologies into safe and effective medical products. The tools expand on the methods sections found in published studies, providing additional details that can help innovators reproduce study results. Additional materials can include instruction manuals, source code for models and simulations, or in some instances, videos that demonstrate study methods.
Examples of the different types of RSTs include, but are not limited to, tissue-mimicking phantoms, laboratory methods, statistical software, computational models, data sets, and recommended best practices.  The focus of the RST catalog is to ensure that the tools are sufficiently well characterized for their applications, broadly available, and have utility beyond any individual device submission.
RSTs reduce the need for device developers to design ad-hoc test methods, allowing them to focus limited resources on how well their new product works, not how well it might be tested. The RSTs are a peer-reviewed resource for companies when standards do not yet exist. Although RSTs do not replace FDA-recognized consensus standards, RSTs provide a foundation for future standards and consensus test method development.
Depending on the context of use, some RSTs provide complete methods that can be used as is or serve as a starting point that, with further development, will meet innovators' needs. They can be voluntarily used across the whole product life cycle, removing assessment gaps, and leading to increased predictability of success in both product development and the regulatory phases of bringing products to market. 
The RSTs are intended to ease the burden on innovators to design and validate their own testing methodologies so they can focus on developing innovative, safe, and effective medical products. The FDA has not evaluated the regulatory suitability of these tools within any specific context of use, but often they represent the most recent regulatory science in a particular medical device or technology area.
The catalog includes several directly applicable RSTs for biophotonics, including biological mimicking phantoms and imaging test methods and models. They would be of use to evaluate a wide variety of medical imaging devices and techniques in areas such as endoscopy, Raman spectroscopy, X-ray imaging, and optical coherence tomography (OCT).
One example is an OSEL-developed optoacoustic phantom for photoacoustic medical devices. The RST outlines methods necessary to replicate a tissue-mimicking material with tunable, biologically relevant optical and acoustic properties that can be used to construct imaging phantoms applicable to photoacoustic medical devices. It provides information on a set of phantom-based test methods for evaluating photoacoustic image (PAI) quality, blood flow, and PAI oximetry measurement accuracy. The phantom was modified by a company for their specific needs and utilized in a successful premarket application to the FDA. Equally relevant phantoms and methods are available in the catalog for a variety of different techniques and applications.
The RSTs represent an important contribution to reducing technical and regulatory risk in all stages of product development. They are particularly important to early inventors and innovators, who often don't have means to evaluate their systems. The catalog collates a variety of RSTs that CDRH and OSEL developed, with plans to expand as new tools become available.
Zane Arp is director of the FDA Division of Biomedical Physics
Dorn Carranza is associate office director, FDA Strategic Partnerships
Edward Margerrison is director of FDA's OSEL


Enjoy this article?
Get similar news in your inbox
Recent News